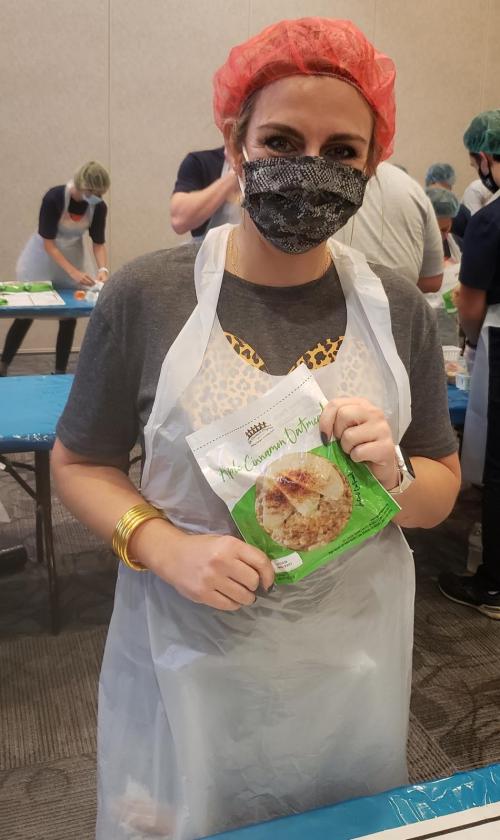 Join us for our 22nd Annual Day of Caring
Friday, September 1, 2023
8:00am
at the Forsyth Conference Center
Day of Caring is United Way of Forsyth County's single largest volunteer day, bringing the community together to give back year after year. 
In 2022, approximately 549 volunteers packaged 130,000 non-perishable meals that were distributed to 4 local food pantries and programs.  Volunteers also packaged 2,000 Family Snack Packs, 1,000 School Supply Kits, and assembled 250 Literacy Kits.  As a Volunteer, you are working shoulder to shoulder with others who share your commitment to our community. 
Want to sponsor?  Help us address food insecurities in Forsyth County and put food on the tables of families in need by becoming a Day of Caring Sponsor.  All sponsors will receive recognition on United Way's social media channels as well as brand recognition during the event.
To become a Day of Caring sponsor, click here.
Want to volunteer? Click here to REGISTER TODAY!
To guarantee T-shirt sizing, order no later than August 4th...Deadline to register is Friday, August 11th.  Space is limited, sign up today!  
Admission to the event:
We are asking for $10 per person to cover costs of breakfast/snacks and the event t-shirt.  As part of admission, we will also be accepting donations of:
PopTarts for students
School Supplies

Composition Notebooks
5 Subject Notebooks
Colored Pencils
Washable Markers
Event Timeline:
8:00am - Breakfast
9:00-11:00 - Food Packaging
11:00-11:30 - Event clean-up
To find out how you can be part of this year's Day of Caring in 2023 contact Lindsay Bohannon at 770.781.4110.